+/- modulation = music.
Here is some information and pictures of our station
This is our transmitter.
It was a great find on ebay. I have no idea why the sellers let it go so cheap!
This is a picture of our lead technician Brad tuning up the Pool10FM broadcast antenna. In the old days, Brad built prefab houses, but now specializes in work like this. You know, work that nobody in their right mind would do.
Brad took this shot looking down our broadcast tower.
It takes a few drinks to convince him to climb the tower, but once he's up there, he likes to swing and play like a chimpanzee.
He likes to drop his tools one by one and watch them fall to the ground.
And here is a rare shot of our station manager doing one of her live "chix pix" specials. She had a few guests in the studio on this particular occasion kicking out some live tracks.
Finally we have a shot of the boards in our new custom designed broadcast studio in the heart of Pool 10. Our studio includes some of the latest in state of the art cooling technology.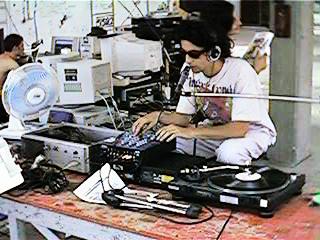 or maybe not
Copyright 2004 - 2013 Pool10FM